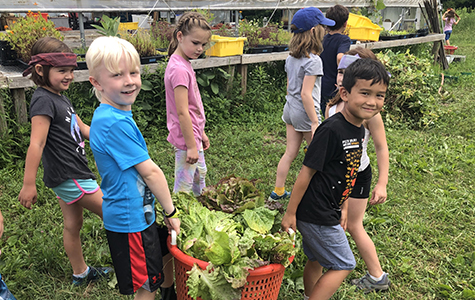 Farm Club
5-week session Tuesdays from 9 am – Noon
June 13-July 18 (no session on July 5)
Is your 6-10 year old looking for engaging, outdoor activities this summer? Check out Summer Farm Club! This returning program sends kids behind-the-scenes of KNC's CSA gardens and animal care operations to participate in raising plants and caring for animals. Kids will sow, tend, and harvest plants in the CSA garden, as well as enjoy opportunities to meet and care for farm animals. Participants will learn about local and regional food systems while discovering the joy of farm-to-table food! 
This program is limited to 12 children per session due to the hands-on nature of our activities. This program will be held mostly outdoors. Participants should wear comfortable clothes, good walking shoes (closed toe preferred) and bring their own water bottle. Snacks will be provided. 
 Farm Club will meet weekly on Tuesdays from 9:00am – 12:00pm.  
Fee: $175 per Member, $205 per Non-Member
Meet: DeLano Farms, 555 W. E Avenue
Audience: Youth ages 6-10 (Elementary School age) 
 Financial assistance is available; email for details.