Woodland Wonders: A Program for Unique Learners
8-week sessions | April 12 – May 31
3-6 year old participants: Tuesdays, 10:00 – 11:30 am – Register here >
5-9 year old participants: Tuesdays, 4:30 – 6:00 pm – Register here >
Program is held outdoors at the Stryker Nature Preserve, 2342 Angling Road, Kalamazoo
Fee per session: $170 per family (1 caregiver + up to 2 children from the same household) $50.00 per Third Child. Limited to 10 families.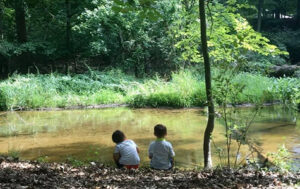 This program for 3 to 9 year old unique learners and children with special needs, and a caregiver, will meet at Stryker Nature Preserve. Using nature as a tool, children will engage their body's sensory system through gross and fine motor activities, develop adaptive strategies by problem solving new experiences, and gain independence and confidence through success. This group will explore nature and the woods, participate in fun hands on activities, listen to stories and enjoy games. There will be an exciting mix of both structured activities and open-ended play with peers. Led by a nature-based teacher with extensive experience with unique learners and children with special needs, this group will be limited to a small group size of 8 families. This will be outdoor fun that all children can participate in! All relevant health and safety guidelines for outdoor activities will be observed.
Financial assistance is available
We recognize there is significant variability in what families in our community are able to afford. This reality is only growing due to the impacts of COVID-19. Financial assistance can be applied for by answering a few simple questions during the registration process.