The Fort Custer Military Installation contains some of southwest Michigan's most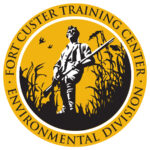 untouched ecosystems and is home to many endangered species. Join podcast producer Nora Duncan as she follows researchers from the Kalamazoo Nature Center through swamps, forests, and even fire as they conduct research in this wild and beautiful place.
Over the last 25 years, the Kalamazoo Nature Center has worked closely with Fort Custer Training Center to perform research and land management on the property's 7,500 acres. KNC has aided efforts to conserve and restore native habitats, support populations of threatened and endangered species, and foster climate resilience.
Off the Trail is a five-episode podcast series that takes a closer look at this exciting collaboration:
Off the Trail is a project of the Kalamazoo Nature Center, created through support from the Michigan Army National Guard's Fort Custer Training Center. Special thanks to Michele Richards, Natural Resources Specialist with the Michigan Army National Guard's Environmental Division.
Episodes are also available on Anchor.