Celebrate Earth Day at KNC Saturdays, April 15 & April 22
– Saturday, April 15 –

Start off your day at the popular 5K Fun Run along some of KNC's most beautiful trails. The untimed run/walk includes steep hills, forest views, and a variety of terrain. Younger participants can join the Kids' Raccoon Run for ages 8 and under on a stroller-friendly, 1K romp around the Habitat Haven Trail. Registration fees for both runs support KNC's Early Childhood Education Fund.
– Saturday, April 22 –

FREE admission day!
Enjoy FREE admission to KNC's Visitor Center, trails, and exhibits all day. Celebrate the first signs of spring through guided hikes and exploration.
– Saturday, April 22 –

Earth Day in downtown Kalamazoo

KNC has partnered with Kalamazoo Earth Day for several years. In the spirit of promoting collaborative action that leads to a more sustainable, supportive, and equitable community, the Kalamazoo Earth Day Festival is coordinating an exciting series of events that connects neighborhoods to celebrate and share in the work of creating a better place for all on April 22 from 11 am – 7 pm.
Travel to three Kalamazoo neighborhoods (Edison, Oakwood, and Vine) to enjoy good music, food, and environmental education. KNC will provide transportation to and from KNC trails from each neighborhood throughout the day, with programs and guided hikes available while you're here. Learn more on the activities in the Kalamazoo community here >
– Saturday, April 22 Programs at KNC –
Electric Vehicle Show:
For the second year in a row, the Kalamazoo Electric Vehicle Association will present an EV show-and-tell at the Nature Center, to help celebrate Drive Electric Earth Day on Saturday, April 22.
Everyone is invited to see about a dozen examples of the latest battery-electric vehicles and plug-in hybrids. Vehicle owners will answer questions and share the many advantages of EVs compared with gasoline-powered cars in the real world, including reduced harm to the environment.
This event is completely free and open to the public. Come down to the lower parking lot any time between 10:30 am and 3 pm to learn what today's EVs are really about.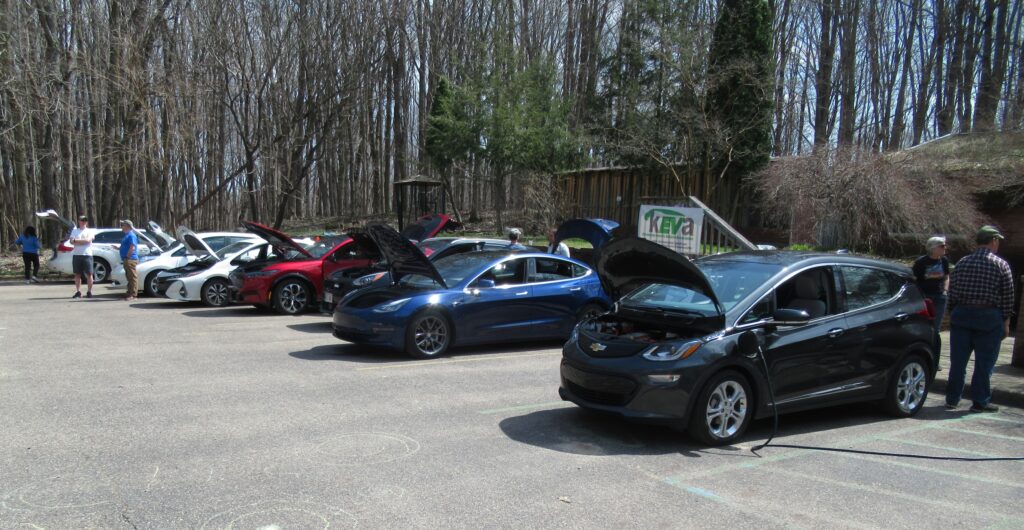 Earth Day Sponsorship Opportunity
KNC invites you to sponsor our Earth Day Celebration. Since Earth Day was first recognized in 1970, KNC has offered free admission to the community to help increase understanding and appreciation of the natural world. A sponsorship places your business in front of our 6,200+ membership base and the greater Kalamazoo community.
Thanks to our 2023 Earth Day 5K & Kids' Raccoon Run Sponsors